Organised by the International Centre for Sports Studies (CIES) in partnership with three universities, De Montfort University in Leicester (England), SDA Bocconi School of Management in Milan (Italy) and the University of Neuchâtel (Switzerland), the FIFA Master in Management, Law and Humanities of Sport was created to promote management education within the sports world. It has developed to become a top graduate programme developing all-around managers who can cope with the increasingly complex world of sport.
The FIFA Master - International Master in Management, Law and Humanities of Sport
"APPLY NOW TO THE TOP RANKED FIFA MASTER"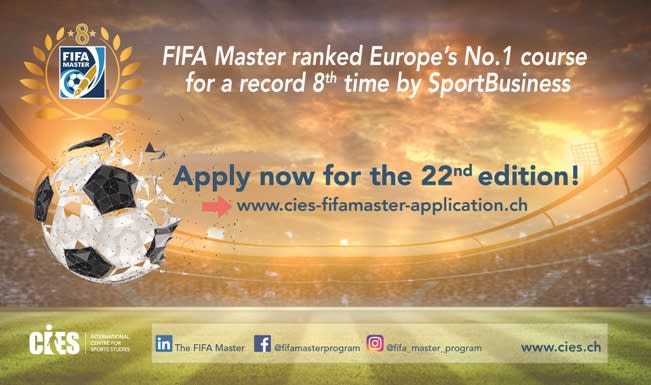 The FIFA Master, which recently celebrated its 20th anniversary, has been named the Number 1 Postgraduate Sports Management programme in Europe for a record 8th time in new course rankings published by Sports Business for 2020.    
The FIFA Master takes its graduates on a unique journey through three different European countries to study sport. Three distinguished universities in England, Italy and Switzerland, which are among Europe's most sports-oriented countries, have come together to provide a one year programme that combines top-class academic teaching and practical case studies supplemented by guest lecturers and field visits. The course focuses on three key and inter-related aspects of sports humanities, management and law. Once the programme successfully completed, postgraduates receive a joint-diploma delivered by the three universities.
Developing unique people
The FIFA Master offers a dynamic international environment with around 25 different nationalities represented in a class of approximately 30 postgraduates that are selected each year. The international multi-disciplinary approach provides postgraduates with the opportunity to learn a broad range of subjects and develop their analytical skills to better cope with the fast-changing trends in the sports industry.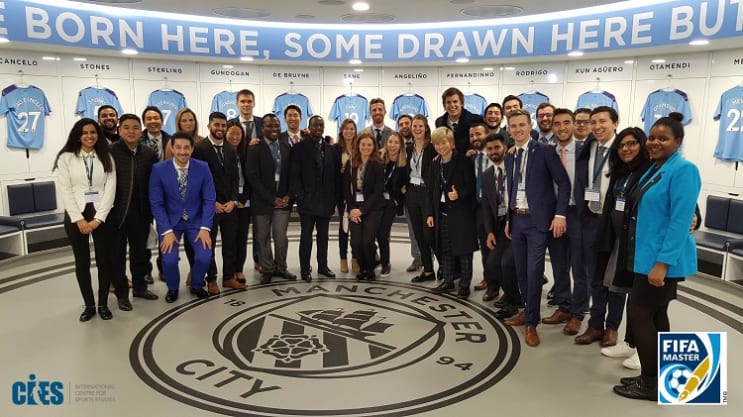 The FIFA Master offers a unique opportunity to meet top executives from high-level international sports federations, clubs, agencies and organising committees, enabling students to build up their own network of contacts - one of the keys to a successful career in sport. There are more than 500 Alumni from 108 nationalities being 90% currently working in various positions around the sports world.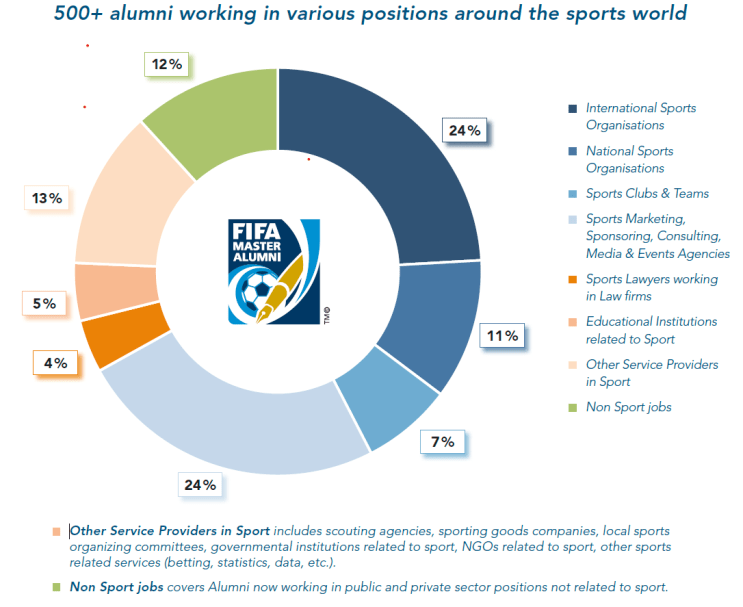 On top of these opportunities, each graduate also becomes a member of the FIFA Master Alumni Association (FMA). The FMA plays a crucial role in connecting all alumni of the FIFA Master, creating lifelong bonds between graduates.
The FIFA Master seeks to attract a diverse profile of applicants, those who exhibit a variety of skills and accomplishments. This is in contrast to some courses which target one standard candidate profile. In order to create the most stimulating environment possible for all postgraduates, we consciously select a complimentary student body, one that not only reflects a variety of backgrounds, cultures, and nationalities but a wide range of personal interests and professional ambitions.
The common characteristics of our postgraduates are demonstrated by leadership potential and a capacity to thrive in a rigorous academic environment.
All prospective candidates must:
Have successfully completed a bachelor's degree by the application date;
Have an excellent command of English (written, spoken and comprehension), TOEFL a minimum score of 100 Internet-based test or IELTS minimum score of 7.5 (or demonstrate a level of proficiency);
Ideally at least 2 years of professional experience;
Have an international outlook;
Be able to demonstrate an active level of involvement/interest in sport (not just as a participant but in the administration/management of sport);
Be a team player and ready to contribute to a dynamic student body;
Always cultivate curiosity and an open mind;
Failure to fulfill any of the above criteria will mean that your application will not be taken into consideration.
As of 1st October 2020, the International Centre for Sports Studies (CIES) has officially opened the application process for the 22nd edition (2021-2022) of the FIFA Master. Please note that the deadline for applying is midnight Central European Time on Friday the 8th of January 2021. Only complete applications received by this date will be considered by the Scientific Committee. 
FIFA Master - International Master in Management, Law and Humanities of Sport, ranked No.1 Course in Europe 2012, 2013, 2014, 2015, 2017, 2018, 2019 and 2020 by the SportBusiness International global rankings.
Organised by CIES in partnership with De Montfort University (United Kingdom), SDA Bocconi School of Management (Italy) and the University of Neuchâtel (Switzerland).